PEOPLE
Clothes Before Bros is a female lead brand fighting for gender equality, therefore, we pride ourselves on being an open & diverse brand. We welcome all people of any ethnicity, gender, sexual preference, abilities & size. Whether it be our employees, models, people we work with (such as photographers, or other brands) or, of course, our customers.
Our employees are paid the national living wage via the government kickstart scheme. These roles are remote, ensuring the safety measures of each employee. COVID-19 safety procedures come into place when the team meets monthly for meetings.
The garments we use for our products are ethically sourced from deadstock, second hand, or vintage wholesale. We DO NOT source any product from manufacturers. The embroidery of our t-shirts is outsourced by a local female-owned embroidery business & the products are made to order to reduce overproduction of garments. Our A4 prints are printed on recycled & recyclable paper via Print Works https://www.print.work/about/
The above information means no one is exploited in our supply chain & all employees & services are paid correctly & fairly.
PLANET
We are conscious of our planet & the damaging effects of the fashion industry. This is why we use circular fashion in our brand. We believe that clothes should be used & recycled as much as they possibly can be.
Purchasing deastock, secondhand & vintage wholesale, prevents garments from ending up in landfill & instead ends up in our products to give them a longer life in your wardrobe!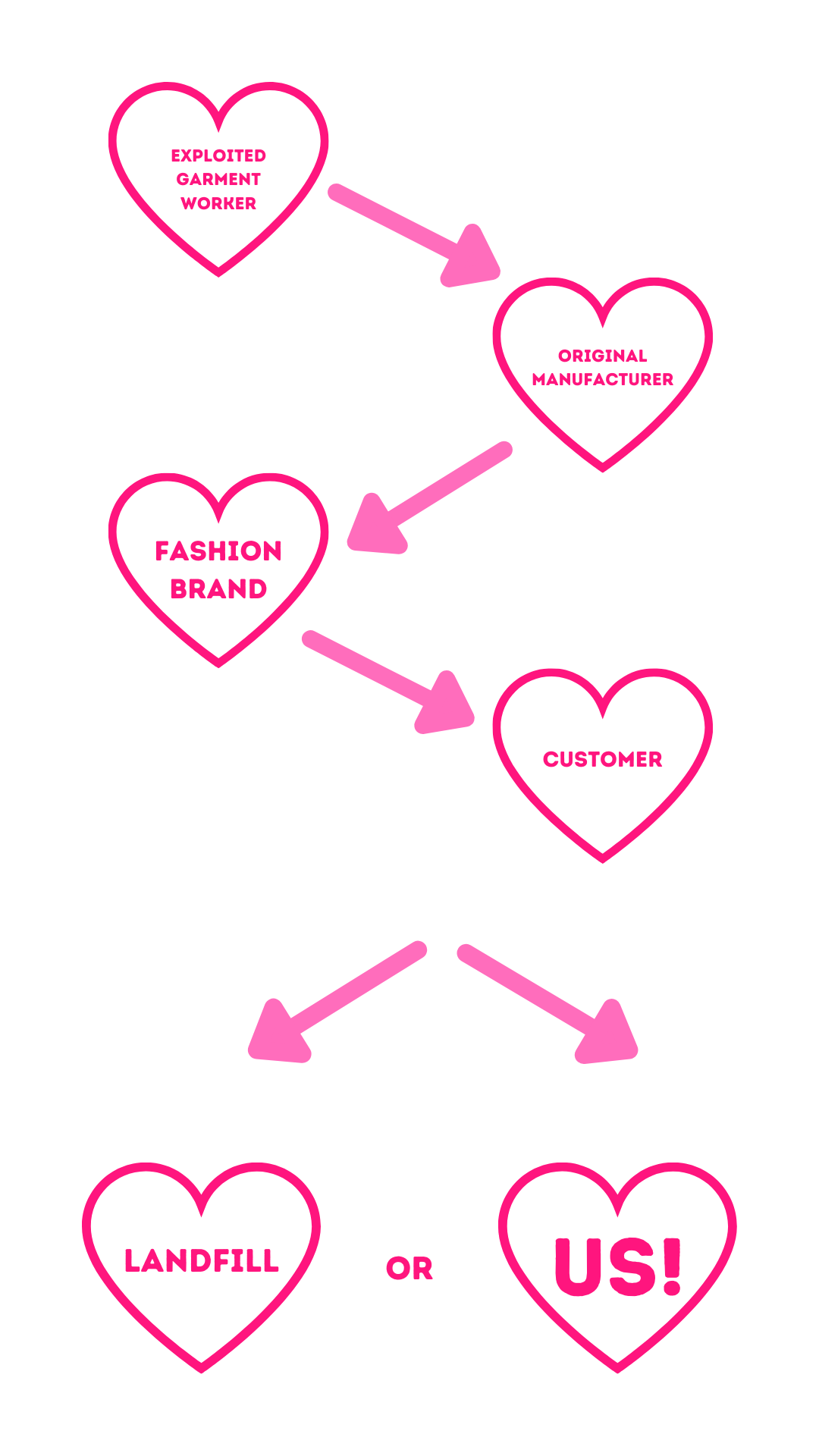 ANIMALS
No animal product is used in any of our products. We are a brand that is against the cruelty & testing of animals. Our garments (with the exception of the vintage leather) are 100% cotton
**Some of our reworked products contain vintage leather that is ethically sourced from deadstock, secondhand & vintage wholesale. This is to prevent the leather from ending up in landfill. This vintage leather is not sourced new from manufacturers & is genuine vintage or secondhand.