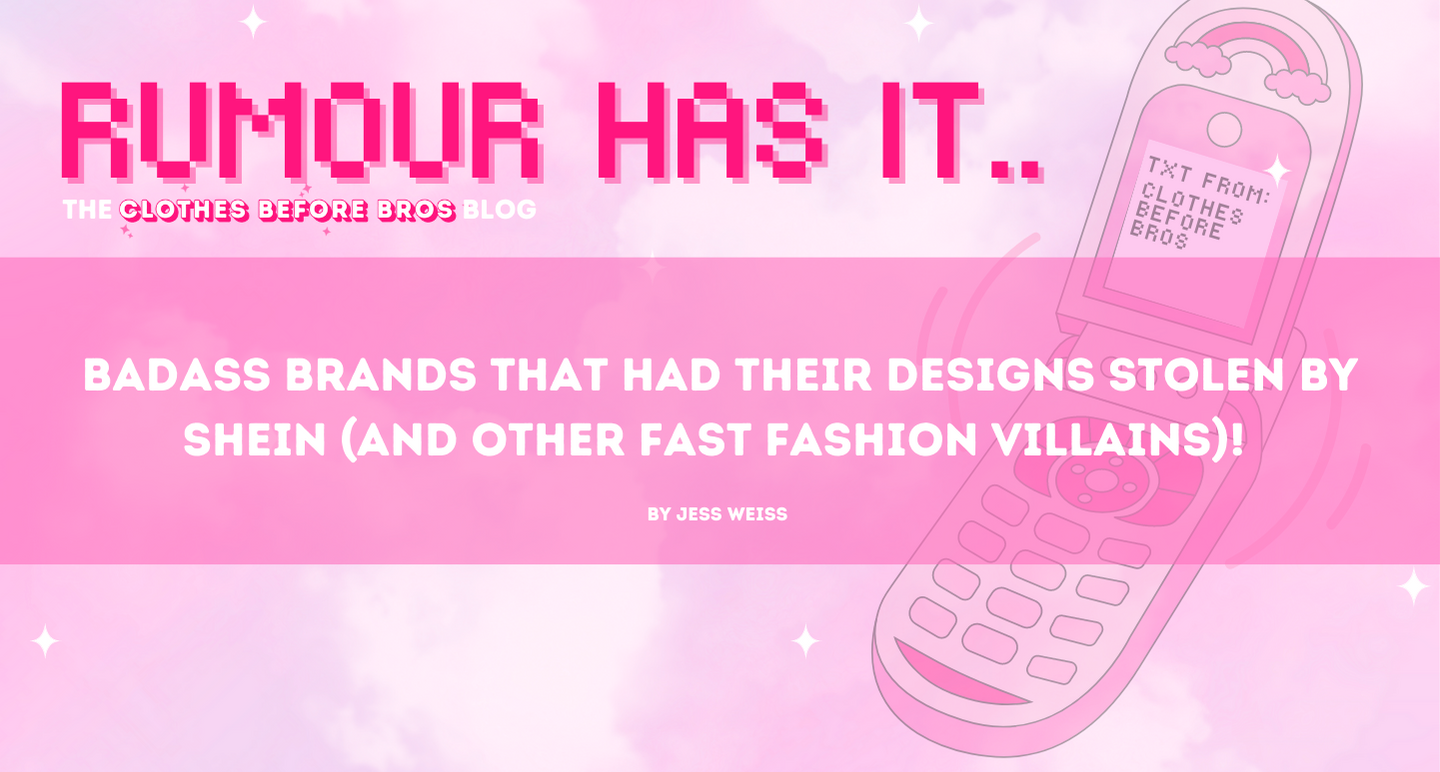 Rumour has it that fast fashion brands are stealing from small creators… and we're here to prove that all the rumours are true (little Lizzo reference there)!
In all seriousness, we wrote this article to empower some of the brands that have been victims of theft from fast fashion companies! 💪
It must be devastating to work on designs for months or years, committing yourself to being a sustainable brand and then having a fast-fashion brand with absolutely no morals steal your work and manufacture it in a way that causes harm! 💔
We see you and we want to highlight your amazing and unique work- the copies will never match up! 🔥
Disclaimer: As I wrote this article, I discovered more and more small brands that had been copied- and I know I'm still only at the tip of the iceberg. I wish I could include all of you - but there must be thousands out there! I've focused on ten brands in this week's post - and hopefully, in the future, I can write more!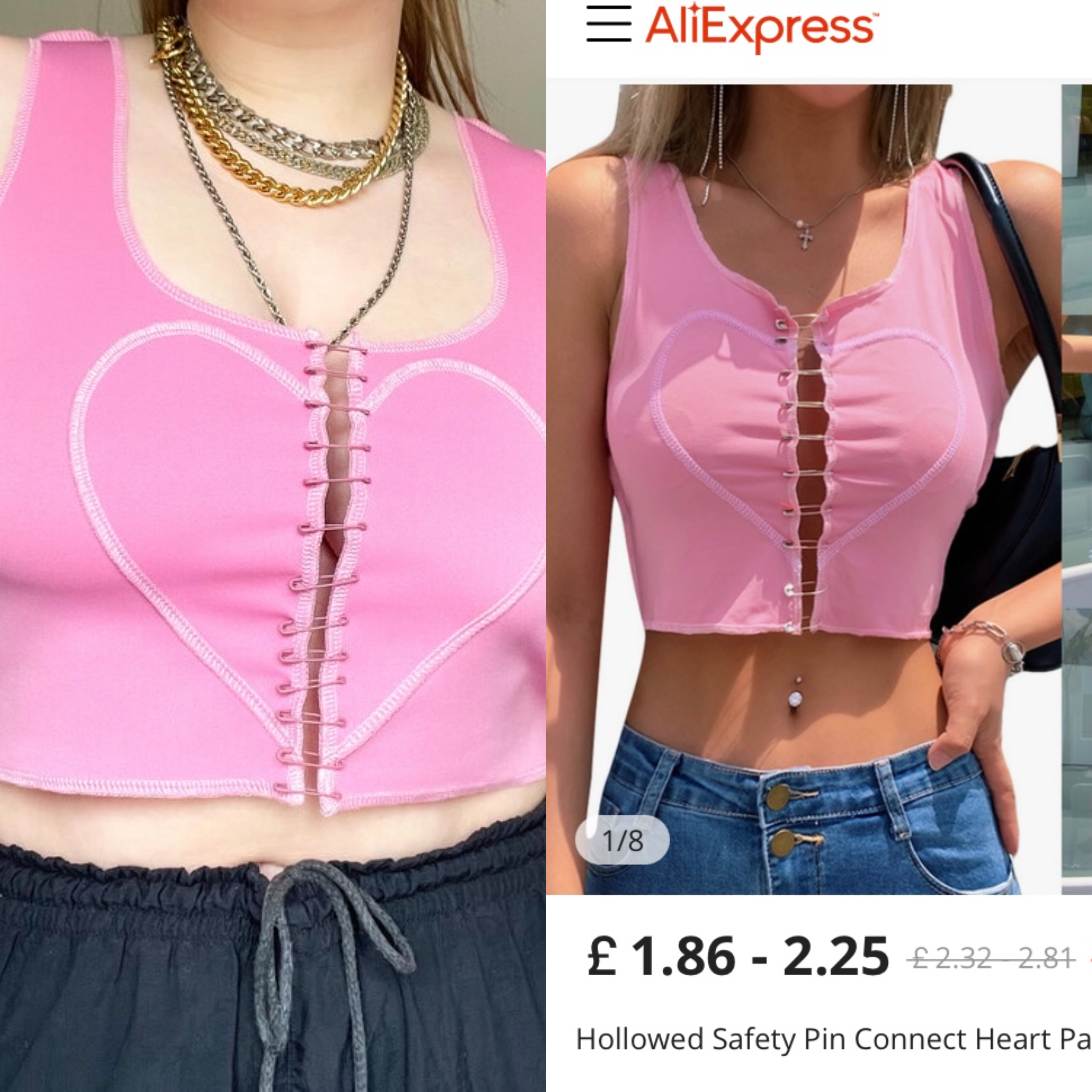 1. MADDY PAGE KNITWEAR
Maddy Page Knitwear is a sustainable womenswear brand created by fashion designer Maddy. Maddy has been a victim of design theft on MULTIPLE occasions by the classic culprits… Shein and Aliexpress! I mean, they even stole the design of a top upcycled from Maddy's boyfriend's old skating socks! 🤯
Maddy even stopped selling the iconic 'Heartbreaker' top because it was too much of a reminder that it had been stolen- until Maddy decided to reclaim the design and re-released it again! GOOD ON YOU! 💖
We love how Maddy combines classic elements of feminine fashion with punk aesthetic in a mixture that truly deserves to be appreciated...fast fashion brands won't ever be able to replicate Maddy's designs with the same quality! 😍
CHECK OUT MADDY PAGE KNITWEAR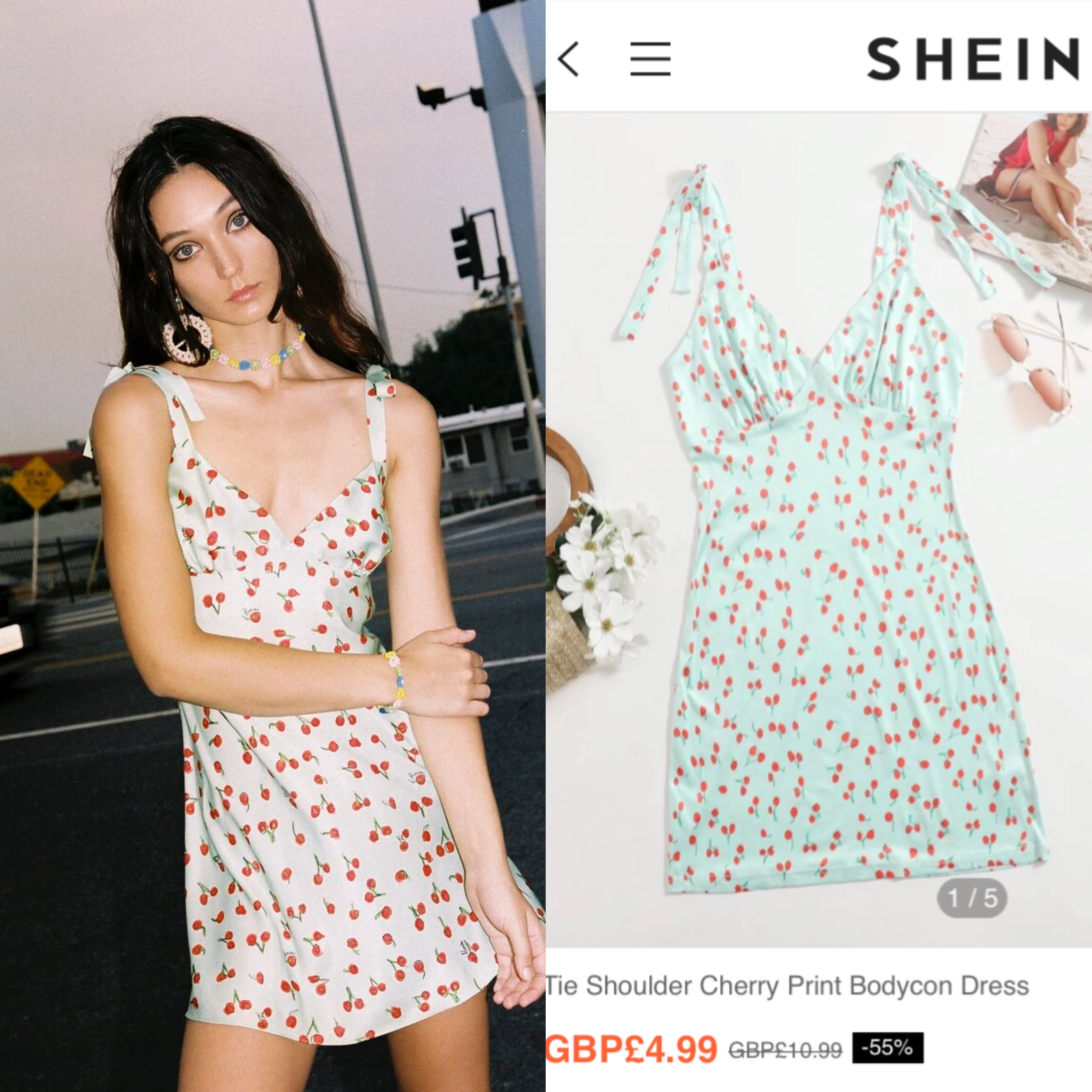 2. MONIKA THE LABEL
Monika The Label is a London-based brand founded by Monika Young- another brand that has sadly been a victim of theft! 😡
Monika The Label's designs have been stolen by both Asos and Shein, using the cherry print that Monika drew by hand and digitized herself, as well as also completely copying the colour, shape and fit of her dresses … but done to an awful standard, with poor quality fabrics! 🍒
Monika The Label uses only environmentally friendly, top-quality fabrics and manufactures their clothing in UK factories, keeping their carbon footprint as minimal as possible! ♻️
So, if you're into 70's inspired vibes, and what Monika describes as 'a love affair between Cali cool and East London grunge' – Monika The Label is a brand you NEED to follow! 😘
CHECK OUT MONIKA THE LABEL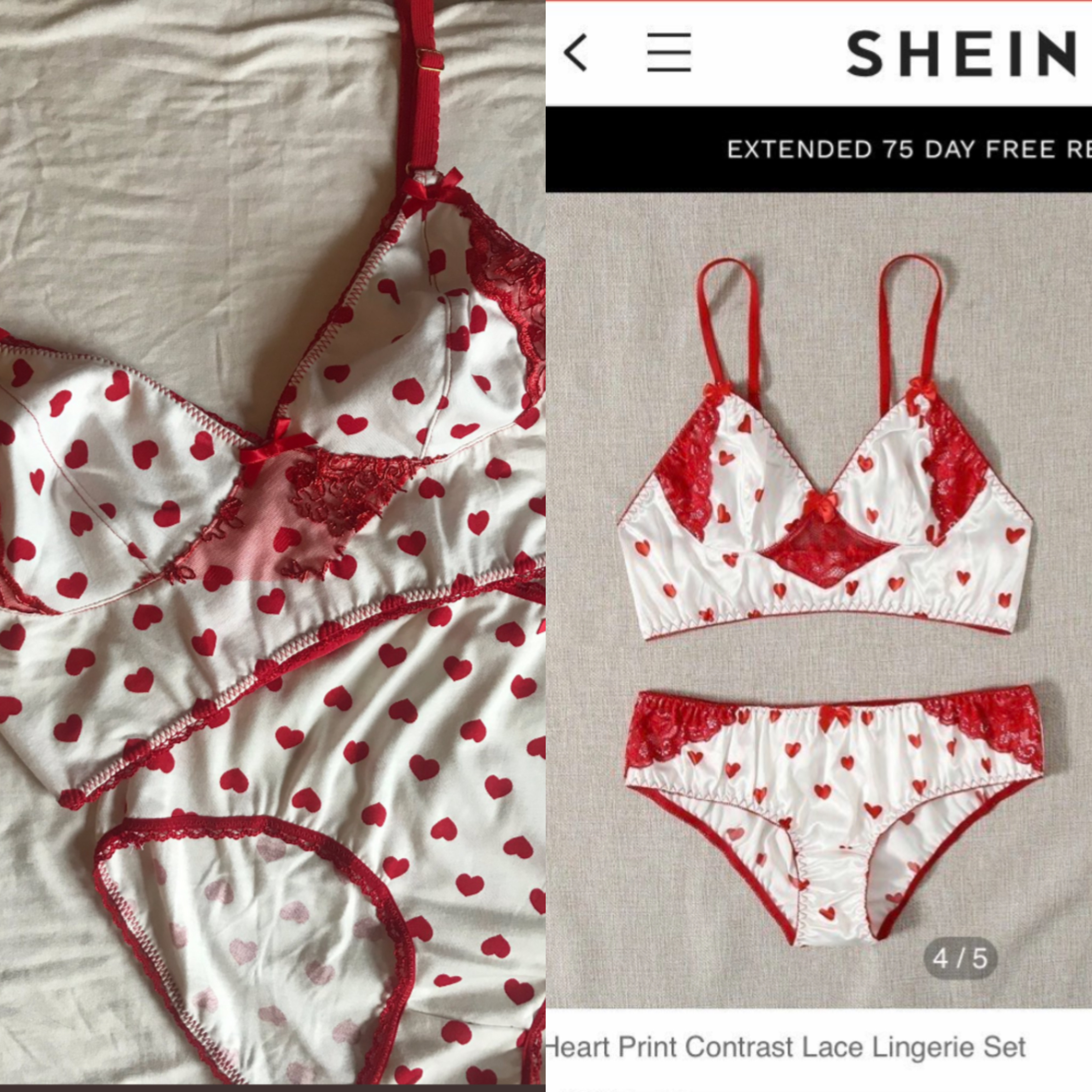 3. VERONICA VELVETEEN
Veronica Velveteen makes beautiful sustainable lingerie for beautiful women of all shapes and sizes! 👙
Brand owner Fern is committed to sustainability and inclusivity, with all of her velvet sets being made from damaged or mis-dyed velvet sourced from large factories- on her mission to provide size inclusivity (she couldn't always guarantee this with small quantities of deadstock fabric) Veronica Velveteen has started making sets using ethical cotton and natural dyes to cater to a larger size range! ❤️
Unfortunately, one of her designs was replicated and posted on Shein in 2020 for a fraction of the cost...REMINDER: anything new item of clothing priced that low means the person making it isn't earning a living wage! 😭
Interestingly, due to the public attention Fern's tweet received, Shein replied apologising that 'several items on [their] site belonged to several artists' and that they are working to 'eliminate' this problem… more like several thousand! 🙄
Considering that it's now 2022, and this problem is even worse than before, clearly, they didn't eliminate anything! 👎
CHECK OUT VERONICA VELVETEEN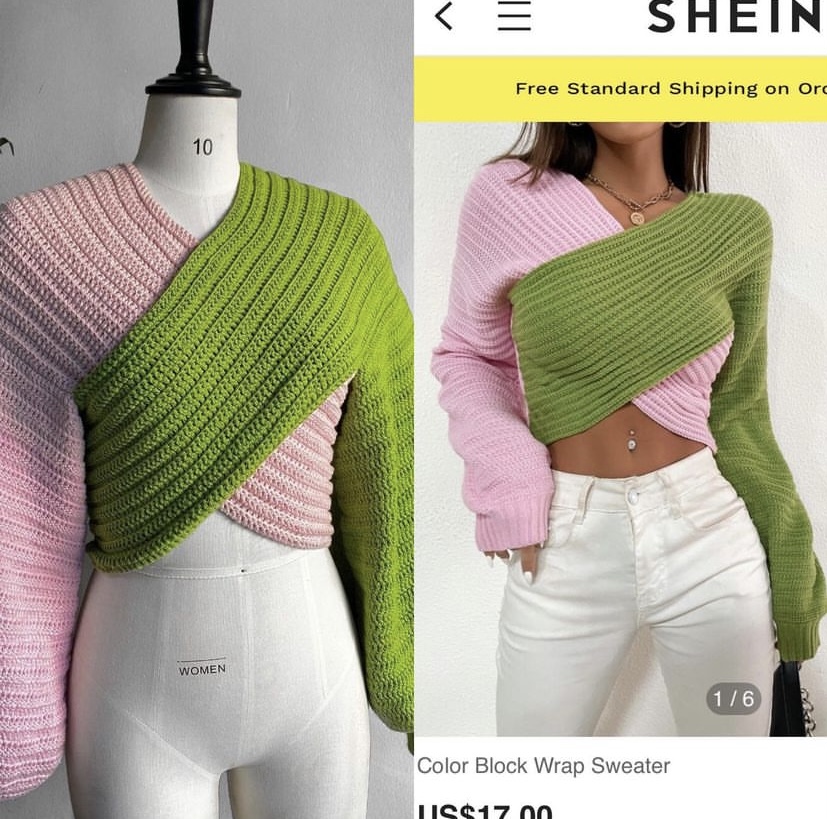 4. ELEXIAY
Elexiay are a black-owned, sustainable fashion brand that aims to showcase the rich history, heritage and craftsmanship of Nigeria through its designs! 💘
All of Elexiay's crochet pieces are made in Nigeria by the hands of female sartorially advanced crocheters, in order to create jobs locally and empower local women- of course, paying them a fair wage! 🌎
Yet again, Shein stole their design. As Elexiay wrote in their Instagram post calling out Shein, Elixiay's artisans in Nigeria spend 4-5 days carefully crocheting their garments… 😮
Fast fashion replicas of crochet designs are extra alarming as crochet machines DO NOT EXIST, and so when a fast-fashion brand is selling crochet at a low cost, it is guaranteed that the person crocheting the garment by hand over hours, days, or maybe even weeks- is not getting paid a fair wage… heartbreaking! 💔
CHECK OUT ELEXIAY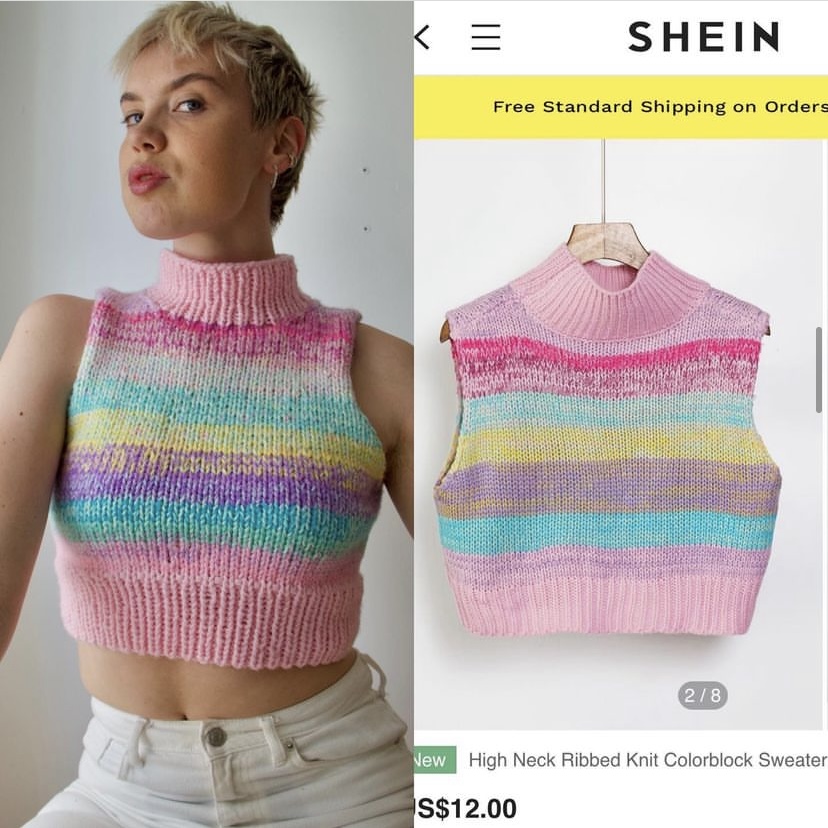 5. ELIZATIONS
Elizations is a Swedish slow fashion knitwear brand founded in 2021 by Eliza, with the goal to inspire you to 'express your uniqueness knowing that no one will ever wear the same garment as you'! 🌈
This was, of course, until Shein copied one of Eliza's gorgeous and completely unique designs that took Eliza 20 hours to make. BUT, Eliza took to TikTok and Instagram in order to get Shein to take accountability for stealing, not just from them- but from other independent designers! 💪
Of course, Shein's copy didn't even come close to the OG. We like our clothes with the quality, time and love put into them by the original designer, and without the exploitation- so, no thanks Shein! 🙄
Elizations knitwear is so vibrant and stunning - from comfy winter jumpers to sexy summer tops, they're so talented and are no doubt one to watch! We can't wait to see what other colourful creations Elizanations releases! 💕
CHECK OUT ELIZATIONS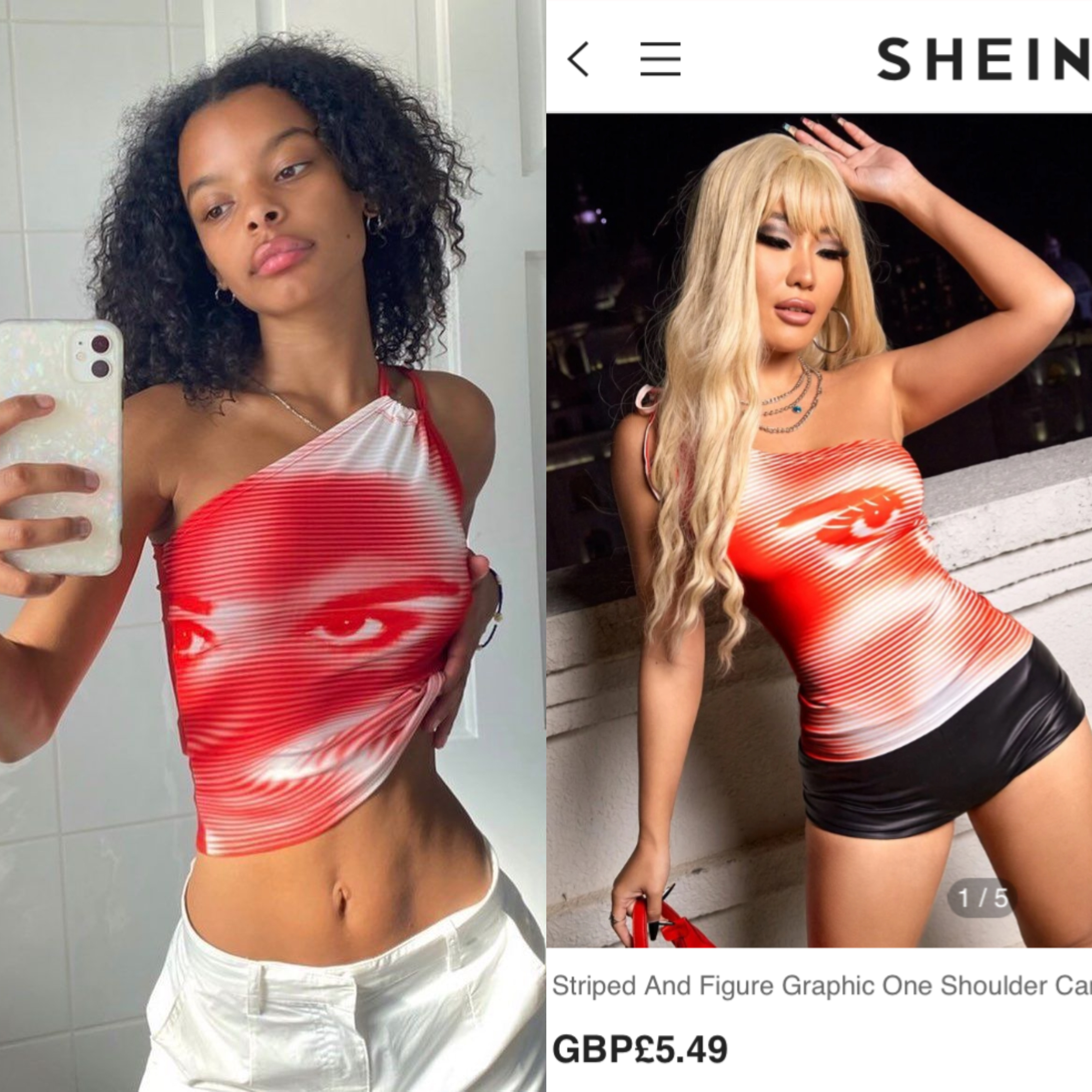 6. OFFKUT
OFFKUT, founded by Isabel Christine, has blown up over the past few years, and deservingly so! ❤️
OFFKUT creates timeless garments and accessories in small runs, often using original digital prints printed on virgin fibres with virtually zero waste by a London-based company and all usable fabric scraps are used for their second line, while any other unusable scraps are sent to a London-based company to be recycled! ♻️
Sadly OFFKUT has been a favourite victim when it comes to fast fashion brands finding a sustainable brand to steal from. As well as this iconic one-shoulder top that has been completely copied, I have to say that Jaded London also released a suspiciously similar graphic tank top to another one of OFFKUT's designs… 🤨
Anyway, for edgy clothing with badass prints- shop OFFKUT! 💘
CHECK OUT OFFKUT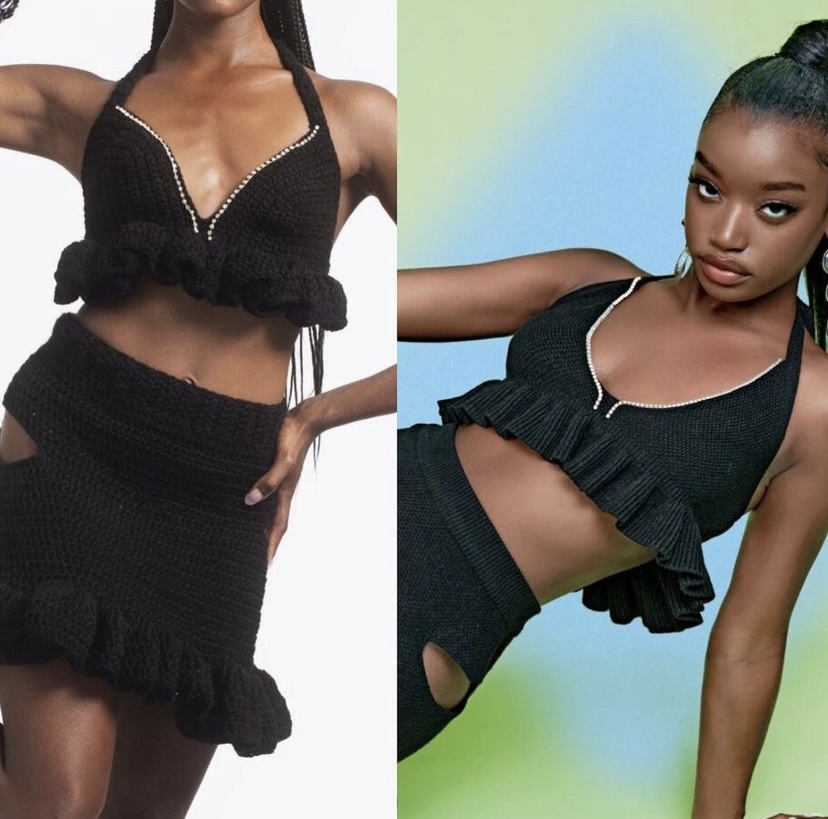 7. BAILEY PRADO
Bailey Prado is a London-based modern luxury brand born in New York, and has a focus on textiles and handmade crochet. Bailey Prado 'puts an emphasis on empowering women of color, and aims to promote diversity within the fashion industry and bring a refreshing style to the crochet world', and of course, we love this ethos! 👍
This Shein theft story has got to be the most shocking yet as they didn't steal one, or two, but stole 45 of Bailey Prado's designs… designs that took Bailey years to create! 🤯
After taking down 10 due to public pressure from Bailey Prado's public outing of them, they still kept the remaining 45 designs up, showing that this theft was far from a 'mistake'- it was purposeful and calculated! 😡
If you love Bailey Prado's unique aesthetic and the juxtaposition of formal attire with camp-esque details, shop their original designs! 💖
CHECK OUT BAILEY PRADO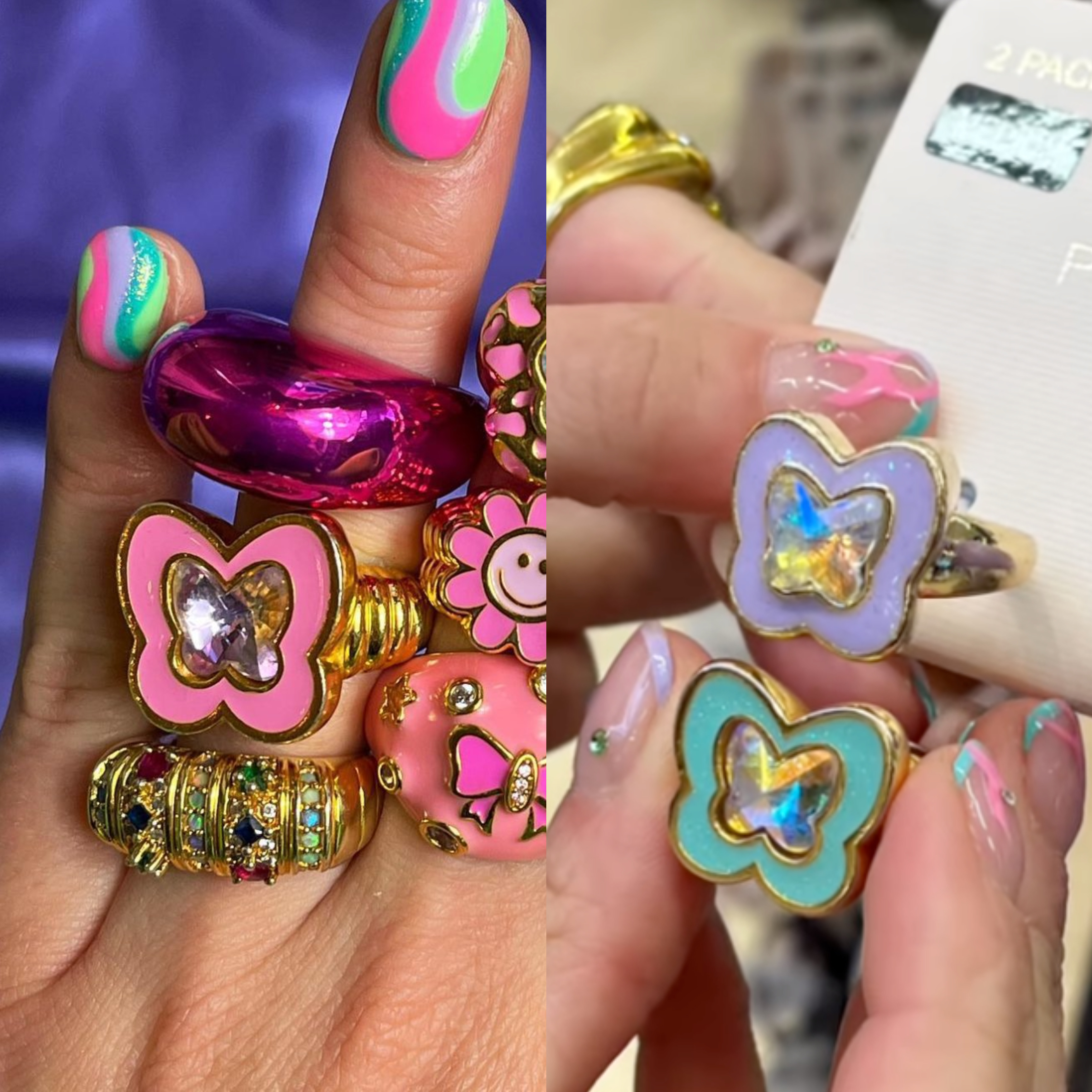 8. JULY CHILD JEWELLERY
July Child is a stunning 90's/Y2K-inspired jewellery brand that designs and creates cute ASF jewellery, and has unfortunately been ripped off by basically ALL the fast fashion brands… to the point that people actually accused brand owner Sinéad of dropshipping her OWN designs from Aliexpress! 😳
This is because stolen images of her jewellery are pasted all over sites such as Shein and Aliexpress, with ring replica's being sold for only 30p (if that price isn't telling of how poor the quality of these fakes will be, I don't know what is)! 😬
July Child also went viral after posting a TikTok showing that she found her own designs in Primark- showing how widespread this theft issue is! 💔
July Child is committed to being environmentally responsible, working with recycled materials where they can and limited runs to reduce waste- they also work with a manufacturer in China that are regularly audited by both SEDEX (Supplier Ethical Data Exchange) and SMETA (Sedex Members Ethical Trade Audit)- making sure they comply to the international standard! 🍃
So you want adorable jewellery that lasts a lifetime instead of a shoddy copy, you know where to go! 💘
CHECK OUT JULY CHILD JEWELLERY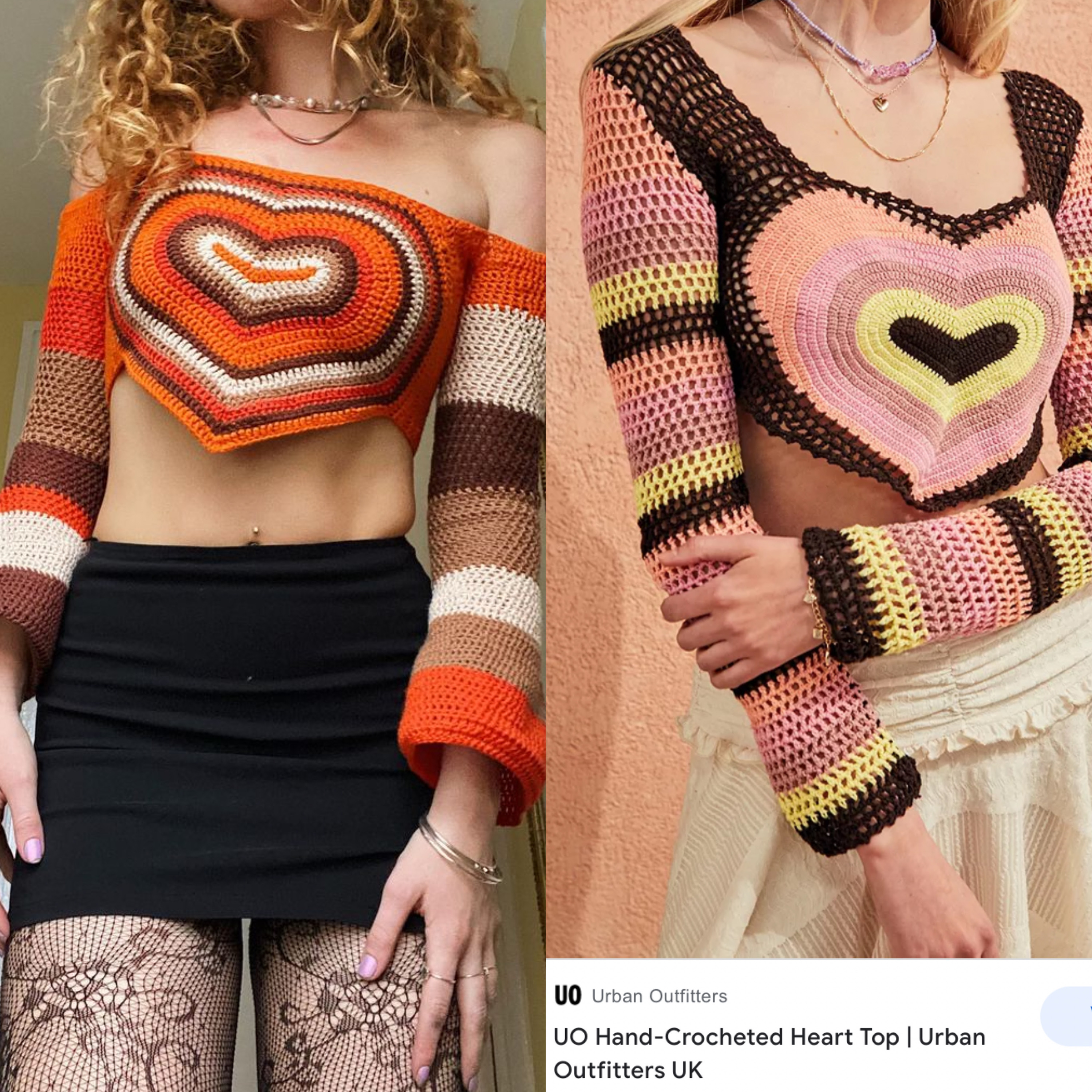 9. MADE BY MOLLY
Made By Molly is a stunning crochet brand that you've probably got saved to your summer Pinterest boards! Her butterfly and sweetheart tops have been living in my head rent-free and deservingly so - they are THE MOMENT! 🧡
Unfortunately, when fast fashion brands see a small creator getting attention and hype- they see it as an opportunity to steal! A copy of Made By Molly's Sweetheart Top ended on Urban Outfitters website! ❌
Molly encouraged her followers to leave one-star reviews and luckily the product has been removed which is a great result- but brands taking down copies simply isn't enough! 💪
Creators should be compensated for all the sales made on replicas of their own designs- however fast fashion brands rely on the fact that most small brands can't take big brands to court, which is how they get away with theft! 💸
Molly took a stand by getting people to mass review the item and it paid off, so if you're a small brand please speak up if you're copied- and if you're after some cute ASF crochet… browse Made By Molly! 🦋
CHECK OUT MADE BY MOLLY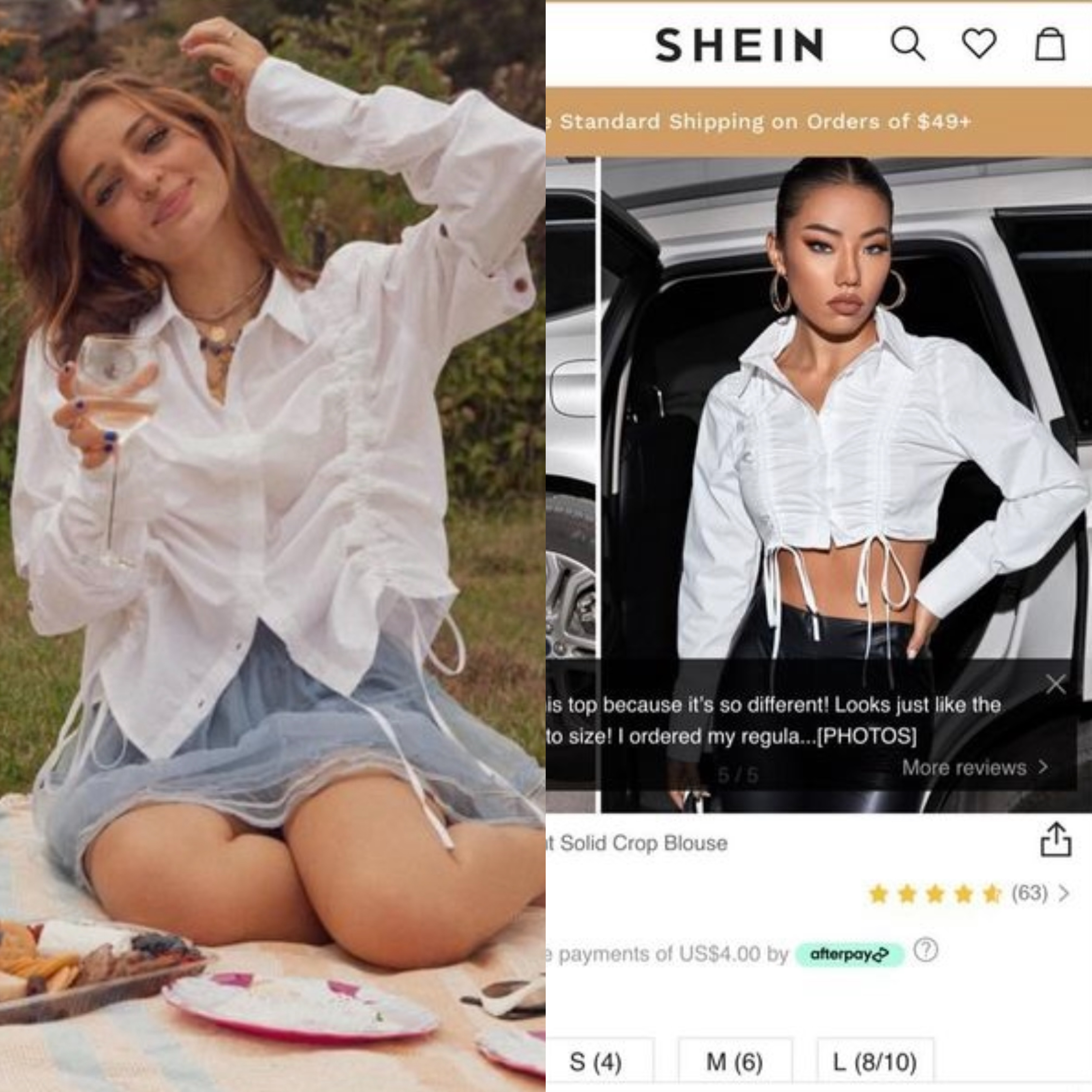 10. RUN AND FOLLOW
Run & Follow was founded in 2016 by AJ Butler and is a seasonless label that 'specializes in clothing that changes with your plans and one-of-a-kind upcycled statement pieces' - with cleverly multi-functional pieces that 'are designed to adapt to the wearer through snaps, pulls, and buttons'! 😍
This concept is absolute GENIUS, and with endless ways to style and wear each garment which encourages the buyer to wear it as much as possible - the purchase becomes more sustainable! ♻️
Run & Follow are also environmentally conscious, and non-exploitative with its material sourcing and production methods. They pay fair wages and provide a safe work environment for employees, produce only 100 or fewer pieces per style and mainly use deadstock fabric! Any fabrics that they don't source from dead stock are GOTS and OEKO-TEX certified and bought in small quantities! 💚
Run & Follow went public on TikTok after they posted not just one, but MULTIPLE copies of their Big City Button Down- but as always, the copy didn't even come close! 🤫
The REAL Big City Button Down features an adjustable tie to turn a more formal top into a cropped, casual style- AND features removable sleeves (a feature Shein couldn't seem to replicate)! 😉
Run & Follow are a really special brand, and we can't recommend enough that you check them out below! 💘
CHECK OUT RUN AND FOLLOW